Push Button Pendant
Conductix-Wampfler has assembled high quality Push Button Pendants since the early 1990's. We offer dozens of standard configurations to suit the unique needs of demanding industrial users. These modular push button units are assembled from stocked components for quick delivery and are competitively priced. The experienced engineering and sales people at Conductix-Wampfler are experts in the application of Push Button Pendants to all kinds of industrial applications.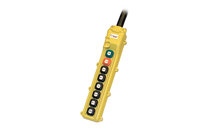 Series 80
Additional information
80 Series Push-Buttons Pendants are excellent for overhead cranes control, electric hoists and other equipment that require handling and lifting materials. Ergonomic, they offer a wide range of settings. They can have up to 12 single speed buttons or multispeed. The most important is that they offer security in the application.
Downloads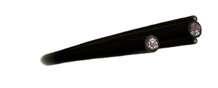 Push Button Pendant Cable
Additional information
Conductix-Wampfler Pendant Cables are flexible, resilient PVC with two integrated steel ropes that offer more security to the installation.
Characteristics:
Uo/U= 0.3/0.5kV
For fixed cabling permitted up to 1.000V
Temperature flexing: - 25°C... + 70°C / fixed: - 40°C... + 70°C
Resistance to atmospheric corrosion to ozone, UV and water
Flame retardant according to IEC 60332-1
Resistant to humidity, resistant to oils and grease
Conductor flexible, category 5